So it is about that time. February 16th. Everybody Black (and a whole bunch of other people) are fully aware that 2.16 means that its Black Panther Day. We also know that WE are going to be doing the MOST at that movie.
There are some Manners Rules that I need to get out there before we even think about that popcorn and candy. Let's drop these rules and let me help you do better before 2.16.
1. Get your tickets now.
Please do not wait until 2.16 to walk up to the ticket booth and ask for 10 tickets to Black Panther. #Facepalm
2. No newborns or babies.
You will probably bring your children, however please do not bring newborns. There is no way that anybody in that theatre wants to hear your delightful little bundle of joy screaming during the film.
3. Please be on time.
You know that parking is going to be bananas. Get there at least 30-45 minutes before the film starts, secure parking and get your popcorn and make sure that your bag does not look suspect with all of the other goodies that you are going to bring in. And for heavens sake please do not be late as hell and then need those two center seats that nobody wanted and climb over me with that funk a** in my face while stepping on my feet.
4. Please don't talk in the theatre.
That means yell in the theatre. Just please don't.
5. Please have your mobile phones turned ALL the way off.
We don't want to hear or feel your phone vibrating. We don't want to see the light from your phone while you ignore your creditors phone calls or phone calls from your baby's mama. Please let us enjoy everything that Ray-Ray (who will be narrating the whole film in the theatre) will allow us to hear.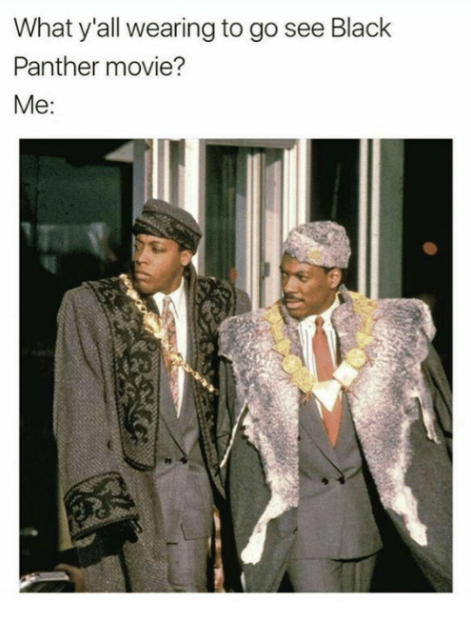 6. Get your African garb from your local African shoppe.
If you don't have a local one visit the one that I love African Rainbow Fashion! Order online NOW so that you have what you need when the day comes.
7. Keep smells to a minimum and showers to a maximum.
Please dont wear tons of perfume and please be showered when you go. The theatre is going to be full and just our food alone (that we are going to bring in) is going to be causing more smells than Wakanda can handle.
8. Be patient. Black Patient.
Black Panther is going to be like a family reunion, people are going to be hugging and talking loud to people that they haven't seen in years. So do NOT be in a rush and do NOT get all feisty if Aunt Esther is in the center aisle on her walker talking to Uncle Pete. Just walk around her and you better say excuse me.
9. Get ready for the Gram.
Yes, we are going to be taking all of the Instagram photos and stories. Just make sure that you are rocking your Kente Cloth. Make sure that you are following me on Instagram too!! @ClassySharelle
This is going to be an amazing film for the culture. This will create a time of pride and the fact that we will go see this movie in high numbers…will show those in charge of green lighting movies that hood flicks are not all that we will watch in vast numbers.
Please be sure and subscribe to my blog as I deliver Urban Etiquette with a sip of tea! Subscribe Below!